About Focus Financial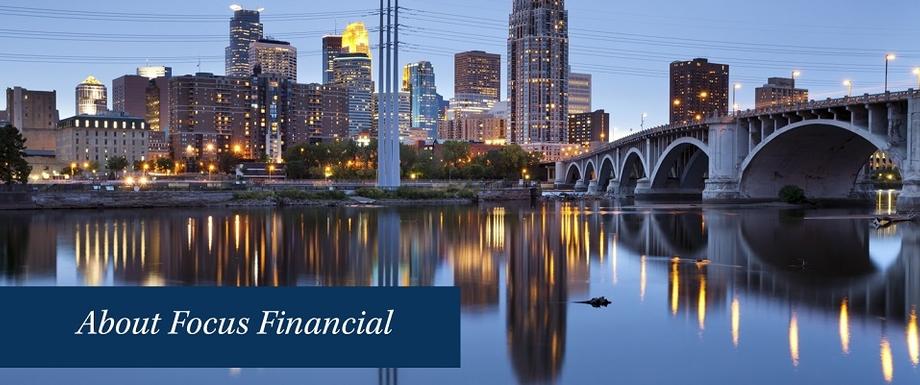 Focus Financial is a leading independent financial advisory firm focused on providing comprehensive wealth management and financial planning services to clients since its inception in 1993.
As one of the largest independent, non-proprietary advisory firms, Focus Financial has more than $5 billion* in assets under management. We've been ranked as one of the metro area's Top 50 Asset Management Firms and one of the Top 10 Certified Financial Planning firms by the Minneapolis St. Paul Business Journal.
Large enough to provide stability, resources and a variety of services, yet small enough to provide personalized service, Focus Financial prides itself on maintaining a client-focused approach.
Focus Financial

includes more than 120 advisor professionals and employees – many of whom have attained the CERTIFIED FINANCIAL PLANNER™ designation – with expertise in a variety of practice areas.

We work with our broker/dealer,

Royal Alliance Associates, Inc.

, to help provide comprehensive, ongoing advisor oversight.

We have experience working with a range of clients, from retirees to accumulators, employees to employers, and executives to business owners. Our advisors, working closely with other professionals where needed, address all areas of financial, business, tax, and estate planning.

We work toward building long-term, high-trust relationships designed to help you achieve your goals.
*Assets receive periodic management, asset allocation services, or are managed by third parties and are not under continuous management.
Third-party rankings and recognitions are no guarantee of future investment success and do not ensure that a client or prospective client will experience a higher level of performance or results. These ratings should not be construed as an endorsement of the advisor by any client nor are they representative of any one client's evaluation.